De Hauppauge StreamEez-Pro is een extern video streaming device wat men kan aansluiten op een USB poort van de PC. Dit kastje heeft als groot voordeel dat het een HDMI input heeft om op hoge kwaliteit te kunnen streamen.
Wij hebben de Hauppauge StreamEez-Pro recentelijk aangeschaft en zijn momenteel bezig met testen om te zien wat het kastje allemaal voor een mogelijkheden heeft.
Het uitgaande video signaal wordt gestreamed naar één van onze Wowza Media Servers met als input de GoPro Hero 4 HD video camera.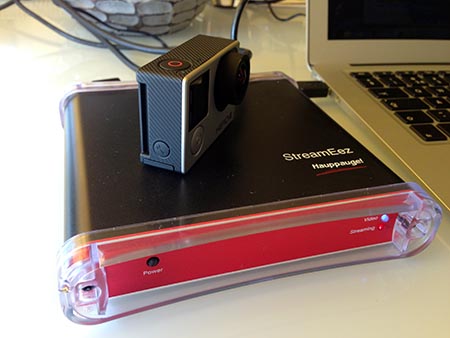 Specificaties:
H.264 high definition video encoder, with video encoding from 480i to 1080p30
HDMI in, from HDMI sources without HDCP
Encoding datarate: from 100Kb/sec to 14 Mbits/sec
Supports VBR and CBR encoding
Built-in video downscaler
Input/output connections
S-Video and composite video in, with stereo audio (optional cable not supplied, available here)
HDMI output
Size: 6 in wide x 6 in deep x 1.5 in high
Power: 6V at 1.6 amps
Weight: .75lb / .34 kg / 12 oz
Encoding formats:
1080p60p (encoded as 1080p30)
1080p50p (encoded as 1080p25)
1080i60
1080i50
720p60
720p50
480p60
480i60
576p50
576i50
Het kastje is bij het volgende verkooppunt verkrijgbaar voor $269 maar u kunt de Hauppauge StreamEez-Pro ook bij ons huren voor €30,- per dag. Dit is wel exclusief streaming account en borg.
Bent u opzoek naar een goede standalone hardware video encoder met HDMI input? De Cerevo Pro is dan een goede keus voor u, klik hier voor meer info over deze encoder.